Colourful Style Ideas For  a Spring Wedding
Spring has sprung and there is something truly romantic about a spring wedding. In the UK the season of Spring is full of greenery and blooms and there's a good chance you'll get some sunshine too! Whilst the weather can be a little unpredictable there are still lots of ways you can enjoy a spring wedding. If you are planning a spring wedding I've put together some colourful style  ideas about how  you can host a wedding in this beautiful season. These colourful ideas for spring details for your wedding will get you and your wedding styled to reflect the full joys of spring in no time!
Colours
No matter whether you are planning a spring wedding in an orchard garden or you've chosen a swanky hotel, spring colours brighten up any venue. Whether you choose warm blush, champagne or cool sage greens keeping your colours in the spring palette will make your wedding feel fresh and romantic. Why not pair neutrals with pastel colours ? Similarly pale pinks and purples mixed with bluebell-blues are incredibly romantic. Or go all out for a bright & cheery Easter vibe !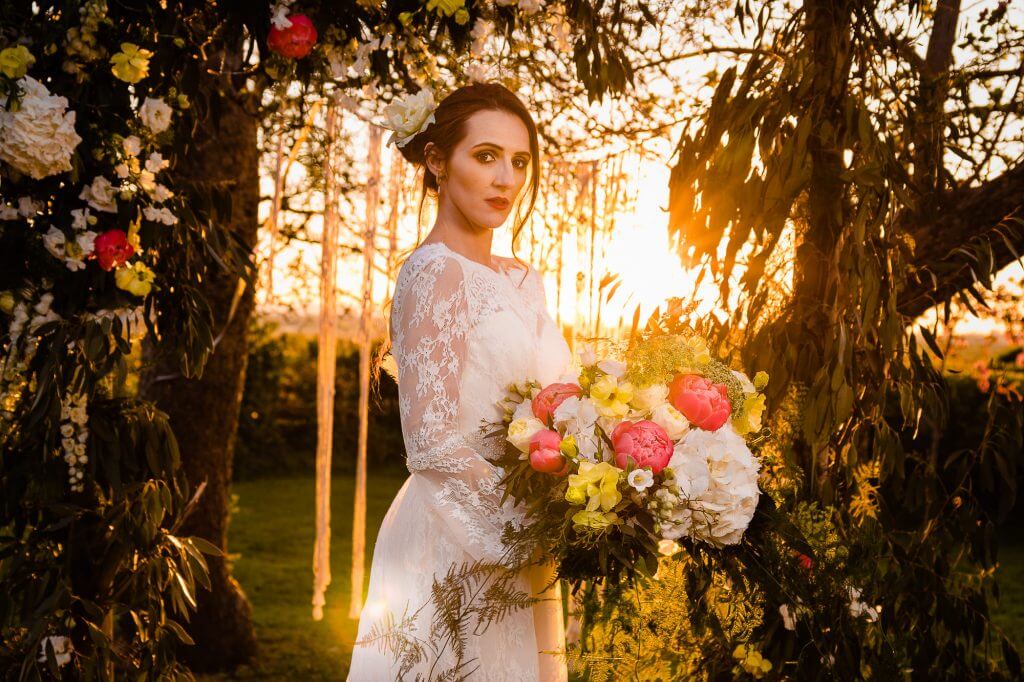 Flowers
The great news about holding your nuptials in spring is there will be no shortage of flowers. Choose flowers that are in season if you are conscious about your carbon footprint or budget. Spring wedding flowers include hyacinths, sweet pea, lily of the valley and freesia, all of which are highly scented additions to bridal bouquets – meaning not only will they look beautiful but they'll also smell amazing too! Brightly coloured Tulips, daffodils and forget-me-nots are also in abundance during Spring and will add fantastic texture to your table centerpieces, bouquets and arrangements.
You could forage with your florist for in season wild additions to your florals such as Common Gorse, Ivy, Lily of the Valley, Primroses & Cow Parsley ?
Whilst you are at it, if you are going to have a spring wedding, aside from the usual bouquets and buttonholes you could take the flower theme a whole lot further by adding florals growing from bulbs in clear vases/water and incorporate green moss into your table decorations. Maybe even add in a cheeky mini Easter egg or two !
Lightweight textiles & pastel colours ?

Just as some will be wearing lightweight dresses there's seasonal options for the more traditional suits too. How about lighter coloured linen suits that will not only reflect the heat should you be super lucky with the temperature on your wedding day, but it will also compliment the other spring colours used elsewhere too. Don't forget a basket of blankets for your guests to snuggle up in when the sun goes down.
Include a Drinks Station
I love the idea of having an outdoor drinks station for a spring wedding. Whether you'll have non-alcoholic options such as homemade lemonade or fruit punch or go for flavoured gins or a prosecco bar, maybe both ?
Rock Rose is one of my favourite Spring botanical gins, all the way from Dunnet Bay, the northernmost mainland distillery in the UK.
For a chic sustainable table centrepiece how about a chilled bottle of the Chapel Down Bacchus, the award winning English vineyard from Kent. Or better still have your wedding in the grounds of one of the many stunning UK vineyards.
An outdoor bar will certainly be something appreciated by your guests. If you are more of a cocktail lover you could start your reception with one or two signature cocktails, bespoke to you & your wedding theme, who doesn't love a spring cocktail? Think fruity, colourful and garnished with spring fruits or herbs….
If you fancied extending the outdoor theme to dessert, you could have an ice cream station or sorbet station complete with various toppings. How about resurrecting serving fruit sorbet in the hollowed out shells of fruit such as oranges or grapefruits ?
Colourful Food
 Colour can be used in so much more than just your décor. Spring is the perfect time to ramp up your guests plates. Edible garnishes and flowers elevate dishes spectacularly and will surely impress even the fussy eaters at your wedding. Spring couples are in luck as many colourful edible garnishes are in season meaning there should be a wide variety available to compliment your menu.
Don't forget to include local tasty food items such as cheese or pickles. Especially if your venue is in Somerset such as the venue we used for our Styled Shoot; DairyHouse Farm
Add colour to your cake, by having a design painted onto the actual cake or if you are looking for something more traditional; adorn it with flowers. The photographs below from supplier contributions to my recent styled shoot might give you some ideas ?
Spring is a gorgeous time of year to get married, as I mentioned earlier flowers are in full bloom, the harshness and bareness of winter is gone and the weather isn't blazing hot, although these days in the UK, in  March you never know!
If you are planning a spring wedding, I hope this 5 minute read has inspired you to go for a colourful theme !
Ohhh & I forgot to mention Spring sunsets !!
Chills in evening temperatures after sunny spring days often create dramatic & colourful sunsets, that was my inspiration for the styled shoot that these photographs are from. You can read more about this shoot on the blog written by Outdoor ceremonies by clicking this link; Outdoor Ceremonies Blog 
The team of suppliers on this shoot, including me were so pleased that it was also featured by County Wedding Magazines (Your Bristol & Somerset Wedding Magazine) & on the blog written by the Celebrant directory, you can read that one too just here; The Celebrant Directory Blog
You can also find the shoot featured online at Pretty & Punk Pretty & Punk
Are you planning a spring wedding? Tell me all about it in the  comments section below.