Easter theme with Spring colours for Matt & Sophie's wedding at Silchester Farm.

It was blue skies & bright sunshine for Matt & Sophie's Spring wedding at Silchester farm. A brief April shower in the afternoon, cleared quickly for a beautiful evening.
I live just a 15 minute drive from Silchester Farm & have loved every wedding I have photographed at this exciting venue. Relatively new, Silchester Farm opened its oak gates as a Hampshire wedding & event venue last year after extensive renovations. I was excited to see that since my first wedding at Silchester Farm restoration of the Retreat had been completed. With 7 bedrooms across a group of restored buildings, Matt & Sophie's guests had exclusive use of the open plan living & kitchen space at the Retreat to get ready in & the comfortable, luxuriously furnished bedrooms to relax & unwind in at the end of the day.
Sophie planned their Spring wedding while she was furloughed & decided upon a barn wedding. Sophie loved the choice of caterers that Silchester offers as well as the 400 year old Hampshire threshing barn for her ceremony.
Matt & Sophie.

They met through work, Matt used to collect parcels from Sophie's employer. He cheekily asked for her number the first time they met & Sophie thought he was  joking, so she said no!
Four months later she gave him it. Matt proposed to her on Christmas Day 2020, outside Sophie's old workplace, where they first met. During Christmas 2020  the UK was under a strict lockdown due to the Covid pandemic, so Matt's proposal meant the lockdown became quite special for them.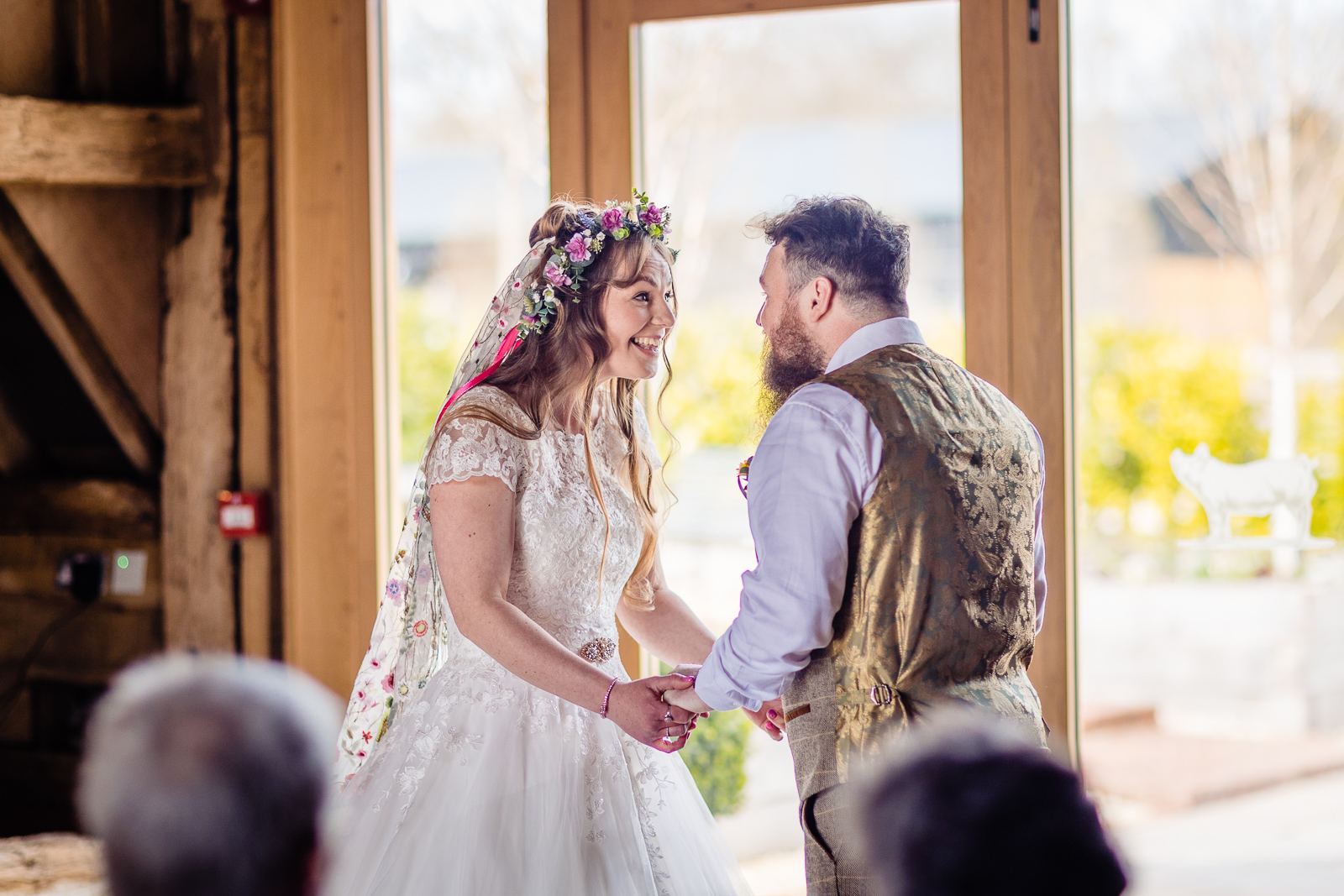 Matt's suit & Sophie's amazing dress.

Matt wanted a tweed suit, he found his ideal suit in tan with brown leather details. It was alot easier for Matt to find his suit than it was for Sophie to find her dress.
Sophie told me that she tried on around 20 dresses during her hunt for the one, but she knew exactly what she wanted. Finding all of the details she wanted on a single dress that she liked, took her a while.
Sophie instantly loved her veil from  Meadowsweet Bridal she bought that long before her dress. It had colourful flowers embroidered all over it. Sophie wanted to wear something that stood out and that was a little different but also something that people would think "that's so Sophie!"
Easter colours & Spring Flowers
For their Spring wedding at Silchester Farm, Sophie wanted pink open flowers, Matt wanted a sunflower. Vicky, their florist at Precious Thymes suggested using yellow gerberas instead as they were smaller & better for a button hole, they also look just like sunflowers. Sophie also wanted irises as her late nan was called Iris.
Bright pink is a favourite colour of Sophie's & it was everywhere in their Easter & Spring weddding theme.
Their amazing wedding at Silchester Farm.

Sophie got ready with her bridesmaids in the Woodshed, a dedicated space perfect for pampering. Her hair was styled by The Tangled Hair Salon her gorgeous fresh natural look was created by Styled by Sadie.
Matt & Sophie's Silchester Farm wedding ceremony in the 400 year old Hampshire threshing barn was wonderfully cosy. They stood in front of the glass doors backlit by amazing Spring sunshine to say their vows to each other. It was so happy & personal, a short civil ceremony with them not taking themselves too seriously. There were giggles & excitement with Sophie giving a fist bump when she first met Matt after walking up the aisle. Sophie's dad sticking his tongue out & giving Matt a cheeky wink during the ceremony was a laugh out loud moment too.
I love their faces in some of the photographs I took of them, they just look so excited !!
The threshing barn was decorated with colourful free standing meadow arrangements of their chosen flowers & twinkling fairy lights. The floral arrangements were easily moved after the ceremony to the Cowshed where their Easter themed reception was held.
Yummy food in the Cowshed !
Matt & Sophie named their wedding reception tables using the what 3 words location for each of them & Easter eggs & egg cups were Matt & Sophies gifts to their guests.
Matt & Sophie chose Keeleys Kitchen to cater for their reception. They opted for a delicious BBQ menu served to the tables in the Cowshed with a fantastic selection of side dishes & salads.
An Easter wedding wouldn't  have been complete without an Easter egg hunt & newborn lambs ! Sophie & Matt's wedding had both & after the food had been eaten & the speeches given, their wedding shoes were swapped for welly boots.
A Silchester Surprise.
Both Sophie & Matt adore animals & Silchester Farm has many ! The newest additions were 9 day old lambs. Alan who works at the farm offered to let Matt & Sophie help bottlefeed the lambs as as wedding day surprise !
Jess, a wedding & event co ordinator at Silchester Farm, along with Alan showed Matt & Sophie how to bottlefeed the  lambs before giving them the chance to also feed the sheep, that were in the field next to our location for their evening portrait session.
It was one of Sophie's wedding day highlights, not many people can say they fed 9 day old lambs on their wedding day!
Spring is a gorgeous time of year to get married at Silchester Farm. The Spring flowers are in full bloom, the harshness and bareness of winter is gone and the weather isn't blazing hot, although these days in the UK, in  March/April you might be surprised !
You could even opt for an outdoor ceremony, under the pavillion with al fresco dining under the canopy of the Dutch barn.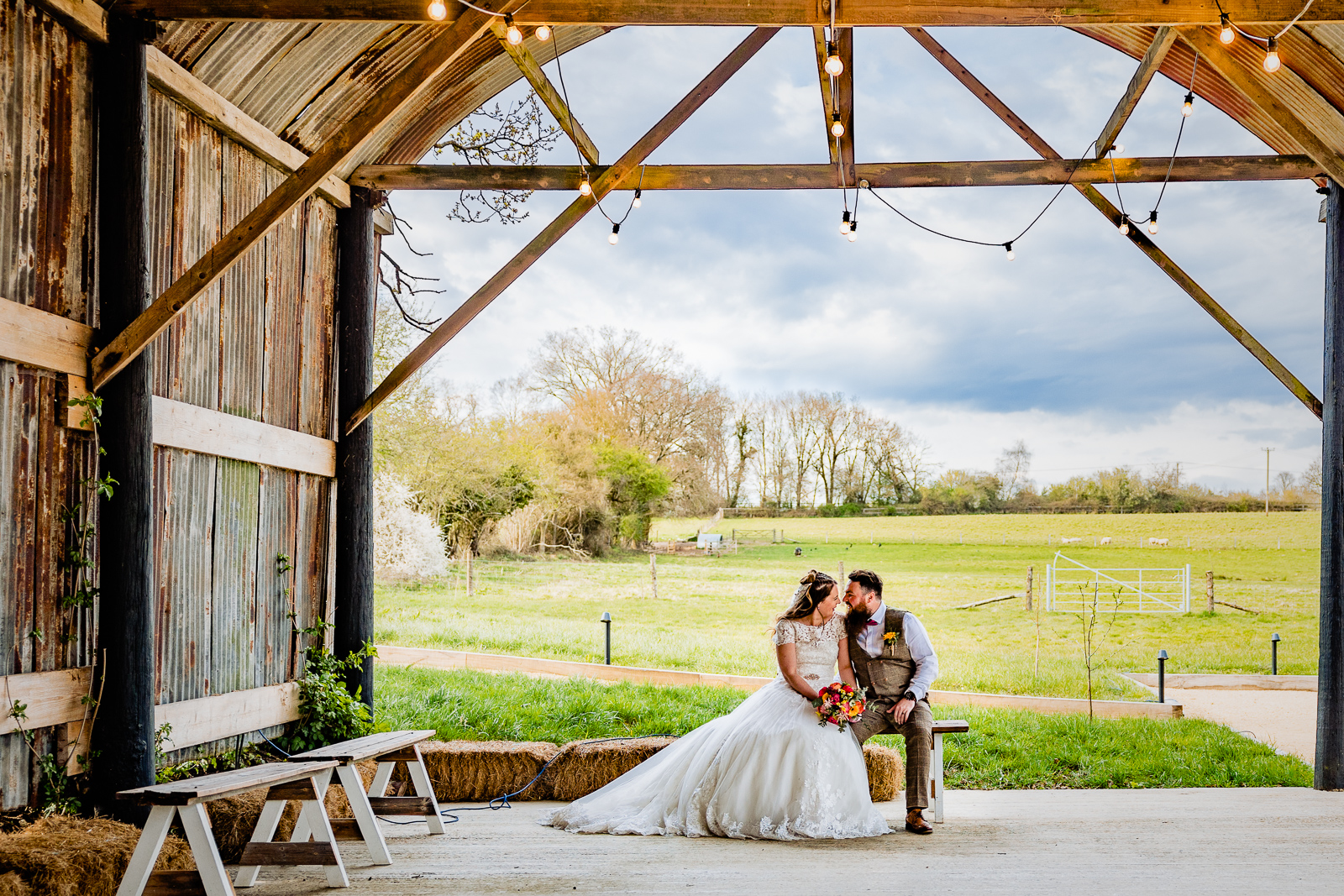 Silchester Farm spoils couples with so many locations for wonderful wedding day photographs. Creating wedding day portraits at this gorgeous Hampshire wedding venue is a photographers dream !
What ever the weather, there are great photographs to create. The area by the entrance gates is ideal for a coloured smoke bomb creation !
We also used the Dutch Barn & headed up into the fields just before sunset, I loved how different the fields looked from last Summer. Oh & the attention to the design of the exterior lighting makes great twilight/blue hour  photo opportunities too !
If you'd like to talk to me about your wedding day photography more information about my services can be found here Beautifullight Weddings